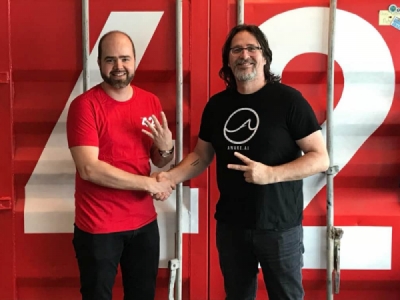 Karno Tenovuo, Awake.AI's CEO (left)
Posted on November 12, 2020
The Port of Rotterdam has partnered with Awake.AI to enable smart ships to make port calls, taking a step toward its goal to become the smartest port in the world.
Awake.AI, which specialises in AI and machine learning, has helped the port to create a digital port and ship platform with digital handshakes between ships and ports through Awake's own smart platform.
The platform helps to determine possible information gaps, standard development requirements and offers better overall optimisation of port calls.
Erwin Rademaker, Port of Rotterdam's programme manager, said: "Awake.AI and Port of Rotterdam have made the first steps together towards the autonomous future.
"Awake.AI is a trusted partner to us enabling smart ships to make port calls. With their expertise and innovations we strongly believe that together we can make a change in industry."
A digital twin of the port was created to test and learn about the transformational process for a smarter future without risking Rotterdam's ongoing operation.
Karno Tenovuo, Awake.AI's CEO, said: "The sheer magnitude with its over 86,000 inland ships, over 29,000 sea-going vessels and 469m tonnes passing through each year, Port of Rotterdam is a massive operation – but ideal to simulate its every possible scenario for it to become the smartest port in the world."
The physical properties and characteristics of the port were required to be transferred into a simulation where its multiple variables could be changed and tested fast and efficiently.
Digital twins are also a significant improvement in helping to address the potential risks in safety when compared to real-word trial and error.
A smart ship port call management system and simulator was also created to test smart ships and digital port operations which not only simulates real world scenarios but also demonstrates the impact of any given changes before they are made to the infrastructure of the port.
This allows for better operational planning capability and more efficient port calls.
The Port of Rotterdam are committed to combating climate change and aim to play a leading role in the global energy tradition and digitisation and automation, by making port calls more efficient, compliments this.
With Awake's platform and its growing number of ecosystem partners, the ambition is to reduce cumulatively 10% of rhe global CO2 emissions from shipping by 2030.
Source: container-mag