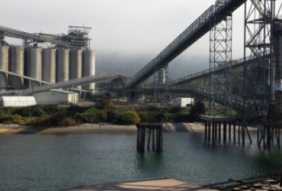 Posted on December 7, 2015
The Port of Kalama has been awarded a $50,000 economic feasibility grant to help identify how to best maximize the economic and community benefits at the new Spencer Creek Business Park. The Washington State Community Economic Revitalization Board (CERB) recently approved the grant as part of $246,113 in public investments for studies targeting business growth and job creation at the Port of Kalama as well as Adams County, Port of Clarkston, Port of Vancouver, and the City of Palouse.
The City of Kalama Planning Commission recently approved the Port of Kalama's Master Plan to develop 70 acres of Port property to make way for the anticipated Spencer Creek Business Park. The City and Port together earned the 2014 Governor's Smart Communities Award for their collaboration on planning the multi-use business property which is expected to boost the region's available commercial property, economy and job opportunities while strengthening the city's revenue base.
As the Port commences phase one infrastructure development, it will use the grant funding to identify the kinds of businesses that will thrive in the new location while offering optimum economic and community benefits for the region.
"This grant is a win-win for the Port and the community as it will help provide the analysis we need to attract business and initiatives that will best suit our community," said Mark Wilson, executive director, Port of Kalama.
Since 1982, CERB has committed nearly $206 million to local jurisdictions across the state, an investment generating more than 34,000 jobs. Private capital investments of $5.7 billion ($27 to $1) return on CERB investment.
"Investments in public infrastructure lay the foundation for future growth, new economic activity and jobs. Successful projects begin with solid and effective planning, long before shovels hit the ground. CERB is a valuable partner in helping communities achieve their own unique vision for creating places where people want to live, work, raise a family or start a business," said Brian Bonlender, director of the Washington State Department of Commerce.
As Washington's strategic economic development resource, CERB is focused on creating private sector jobs in partnership with local governments by financing infrastructure improvements. These improvements encourage new business development and expansion. In addition to funding construction projects, CERB provides limited funding for studies that evaluate high-priority economic development projects. Learn more about CERB at http://www.commerce.wa.gov/cerb.
About Port of Kalama – Where rail and water meet
The Port of Kalama is located in Southwest Washington on the Columbia River and immediately off of Interstate Highway 5. The port exists to induce capital investment in an environmentally responsible manner to create jobs and to enhance public recreational opportunities. Port of Kalama's industrial area includes five miles of riverfront property adjacent to the 43′ federally-maintained deep draft navigation channel of the Columbia River. The Port is served by the Burlington Northern/Santa Fe and Union Pacific railroads. There are over 30 businesses located at the Port of Kalama, employing over 850 people. Port of Kalama offers all the superior facilities businesses need to thrive, and an unsurpassed quality of life. The port offers shovel ready sites, a new Industrial Park, state of the art Marine Terminals and transportation accessibility to rail and highway all just a 30 minute drive to the Portland International Airport. Port of Kalama also offers high-bandwidth communications, with dual access fiber-optic service to Seattle and Portland. Properties currently available at the port for businesses wishing to expand and thrive: Visit http://portofkalama.com/available-properties.