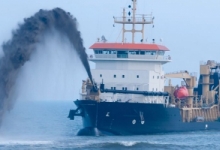 Posted on August 20, 2015
A dredging "handicap" and lacklustre trade with China and Russia hurt the Port of Hamburg's container volumes, as it experienced a 6.8% downturn in the first half of the year, handling 4.5m teu.
The fall in cargos to and from China and Russia hit Hamburg especially hard as Hamburg handles a 6% higher proportion of transhipment cargo than European rivals, Antwerp and Rotterdam.
A large part of the cargo for/from China and Russia is transhipped via Hamburg, being transferred from large containerships on to feederships, or vice versa.
China's container traffic totals via Hamburg went down by 10.9% to 1.3m teu compared to last year's, while Russia's container traffic totals via Hamburg decreased by 35.9% to 212,000 teu.
"In the first half of 2015 China's total foreign trade shrank noticeably, by 6.9%," said Axel Mattern, CEO of Port of Hamburg Marketing. "The weak trend in foreign trade was especially apparent in exports from China to Europe on account of the costlier yuan."
As regards the container traffic in Russia, the trade sanctions still in force, the weak rouble, the fall in the oil price and economic recession are believed to have been causes of the downturn in container throughput evident in Hamburg.
Ingo Egloff, CEO of Port of Hamburg Marketing, said: "Goods from abroad are becoming costlier for Russian importers. Willingness to consume or to invest in Russia is noticeably dwindling.
"The fact that 32.1% fewer containers were handled in the first half of the year in Russia's Baltic ports than in 2014 serves to underline this description of the current economic situation."
Mattern also stated that the lack of implementation of the dredging of the River Elbe must not develop into a "handicap" as the project is still on hold after 13 years.
He said: "The still not implemented dredging of the channel of the Lower and Outer Elbe must not become a competitive handicap for Germany's largest port. Against the background of new handling capacities in the North Range, we find ourselves engaged in intense competition with such major ports as Rotterdam und Antwerp."
According to Mattern, an especially large containership will be able to transport up to 1,800 more loaded containers, both inbound and outbound, following dredging of the navigation channel.
The Port of Hamburg achieved the fifteenth position on CM's World Top Container Ports 2015, having handled 9.7m teu last year.
For 2015, the port's market organisation believes that handling 9m teu is possible, but only if seaborne foreign trade with core markets stabilises.