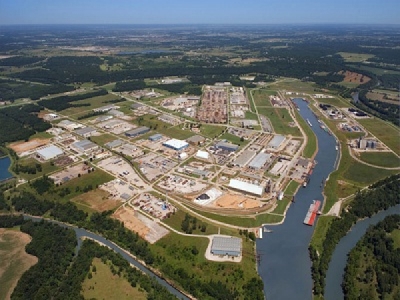 Posted on September 20, 2016
By Larry Levy, Tulsa Business
Enough sediment to fill as many as 20,000 dump trucks needs to be removed from the Tulsa Port of Catoosa's 1¾-mile channel to restore its desired 12-foot depth.
Approval for preparing plans and advertising for bids was given at the September meeting of the City of Tulsa-Rogers County Port Authority.
Cost of the project was estimated to vary between $700,000 and $1 million depending on the mobilization cost for removing some 200,000 cubic yards of sediment, the authority was told. The silt build-up has reduced the channel depth to between 8 and 10 feet, according to a survey made from a port towboat equipped with a depth finder.
Major reason for the estimated cost variance, the authority was told, is because of the potential cost of mobilization of contractors qualified to do the work, which could take several months.
There has been some spot dredging to removed sediment build up where barges are moored, but the port channel was last dredged about 2005.
The authority also approved a $45,000 payment to Spartan Marine for some spot dredging on an emergency basis. Plans call for moving the removed sediment to several ponds at the northern end of the port between the channel and the Verdigris River.
In other business, the authority rejected a bid to buy and install new 125-horsepower auxiliary hoists and all associated components to replace those on the port's 200-ton overhead crane at the main wharf. The current unit does not operate at an economic speed.
Rejected was the lone bid of $235,745 from Dares Contractors, which exceeded the estimated cost of $175,000.
Board members agreed to seek new bids after changes are made to the specifications and made available on the internet in order to attract companies from a wider geographic area.
Source: Tulsa Business