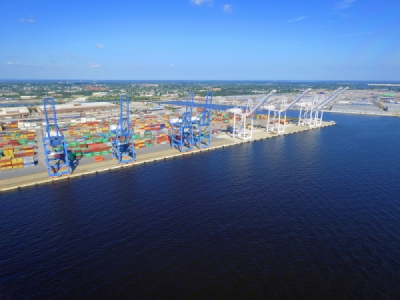 Posted on March 14, 2019
Photo Courtesy: © Shutterstock
The state-owned public terminals at the Helen Delich Bentley Port of Baltimore handled 10.9 million tons of general cargo in 2018, a record and the third consecutive year of exceeding 10 million tons.
General cargo includes rolled paper and wood pulp, machinery, cars, light trucks, and break bulk cargo.
Last year, the terminals moved 627,144 containers, 850,147 vehicles and 565,470 imported tons of machinery.
"There has been no better example of Maryland being open for business than the Port of Baltimore," Gov. Larry Hogan said. "As one of our leading economic engines, the Port generates good-paying, family-supporting jobs for tens of thousands of Marylanders and will continue to create more jobs and economic benefits for our state."
A study by firm Martin Associates discovered the port created multiple economic benefits from 2014 to 2017.
In 2017, the port generated $2.6 billion in business revenues, a $400 million increase from 2014, and generated $395 million in state, county and municipal tax revenues, a 27 percent increase from 2014.
The port supported 15,330 direct jobs in 2017 with an additional 139,170 jobs reliant on the port.
The port paid $3.3 million in salaries in 2017, with the average annual salary 9.5 percent higher than the state's average wage.
Source: transportationtodaynews