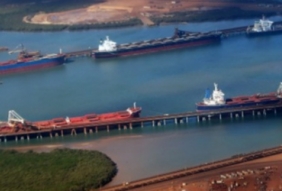 Posted on November 19, 2015
Pilbara iron ore miners could ship more ore from the region's key port if a forecast 16 per cent increase in shipping capacity is delivered over the next three years.
Modelling work over the past two years by the Pilbara Ports Authority (PPA) has identified opportunities to increase the shipping capacity in Port Hedland's channel over the next three years to as much as 577 million tonnes a year.
According to PPA, the current modelled export capacity of Port Hedland port is 495 million tonnes. It achieved a record throughput of 447 million tonnes in the 2015 financial year, of which iron ore accounted for 440 million tonnes.
The modelling, conducted in collaboration with independent maritime engineering company OMC International, found that if a number of innovations and efficiencies at the port were implemented it could bump up the channel's capacity.
The port, which is responsible for about 30 per cent of global seaborne iron-ore trade, is used by BHP Billiton and Fortescue Metals Group and will be used Gina Rinehart's Roy Hill project when it begins shipping later this year or early next year.
Under the operating rules at the port, users have an allocated export capacity under "A and B classes" but can also apply for extra "D class" shipping rights which are offered once their allocated capacity has been reached but further capacity remains within the rest of the port.
The increased availability at the port would not change the A and B class capacity allocated to each user but would add to the available unallocated D-class capacity.
It would be particularly useful for exporters such as BHP and Fortescue which rely on the D-class capacity to ship tonnes beyond their allocated capacity of 240 million tonnes and 120 million tonnes respectively.
Once it ramps-up to full production, Roy Hill is expected to produce 55 million tonnes a year, in line with its allocation at the port.
Fortescue welcomes increase
Fortescue Metals Group chief executive Nev Power welcomed the forecast increase in shipping capacity at Port Hedland but said he believed the increase was only about half of what could be achieved.
"Briefings received by Fortescue indicate there is at least the additional capacity available again, constrained only by landside infrastructure and optimisation," Mr Power said in a statement.
"We're confident that the port capacity will continue to increase through the application of innovative technology and ongoing improvements in shipping and infrastructure efficiency, providing benefit to all port users."
A spokeswoman for PPA said the modelling was "dynamic and will continuously re-evaluate and identify further capacity in the port".
"This new technology allows PPA to interrogate the model with different variables such as channel depth optimisation, the number of tugs and marine pilots required, and potential investments in the inner harbour such as a third swing basin and further development of South West Creek," she said.
Fortescue's positive stance on the increased availability at the port, and the additional tonnes it may allow to be shipped, contrasts its vehement criticism of production increases from the Pilbara's major producers BHP and Rio Tinto.
Fortescue chairman Andrew Forrest used the miner's annual meeting last week to continue his criticism of the producers' expansions, labelling them "ridiculous".
West Australian transport minister Dean Nalder said the forecast capacity increase would result in more efficient shipping for port users and, ultimately, more royalties to the state government.
Mr Nalder said the miners should work with the PPA to maximise loading times and efficiencies at their berths to potentially increase the number of tonnes shipped from the port.
BHP Billiton and Roy Hill declined to comment.