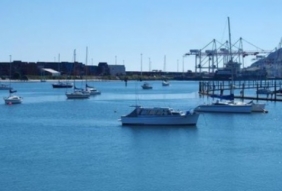 Posted on September 30, 2015
By Eric Frykberg, Radio New Zealand News
The work that starts this week will widen the Port of Tauranga harbour entrance channel and deepen the shipping lane from 12.9 metres to 14.5m inside the harbour and to 15.8m outside.
Dredging will allow ships to enter the port 50 percent more laden than existing vessels.
But it took a four year legal battle to make this happen and exporters say this process was too slow, especially with a widened Panama Canal due to send ever-bigger ships into the Pacific Ocean.
Port company chief executive Mark Cairns said the work was essential if New Zealand was to keep building export capacity as the government wanted.
"This first stage of dredging will allow us to handle 6500 container vessels at low tide," he said.
READ FULL ARTICLE HERE