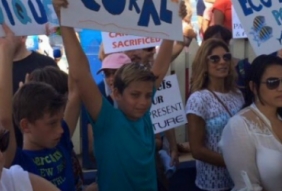 Posted on November 10, 2015
By Reshma Ragoonath, The Cayman Reporter
Save Cayman-Sustainable Cayman Coalition is today expressing serious concern over Government's decision to forge ahead with its multi-million dollar cruise berthing and port facility despite clear opposition to the project.
On Thursday Save Cayman-Sustainable Cayman Coalition, through a media statement, responded to Premier Hon Alden McLaughlin's announcement last week that Cabinet had approved that project to move to the next stage.
Tourism Minister Hon Moses Kirkconnell also announced that Baird & Associates was asked to redesign the project with a view to moving the piers in the original design into deeper waters to minimise the environmental damage.
READ FULL ARTICLE HERE