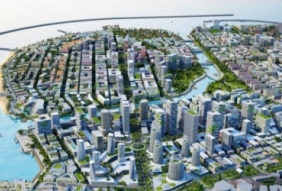 Posted on October 15, 2015
The Chinese-sponsored $1.4bn Colombo Port City scheme in Sri Lanka may get another chance following a high-level diplomatic visit from China last week.
Sri Lankan media report that the cabinet agreed to set up a fresh committee to review the suspended project during a visit by China's vice minister of foreign affairs, Liu Zhenmin, between 7-9 October.
"Sri Lankan leaders have expressed commitment to moving forward the project. I am confident Colombo Port City will be completed in three to five years," said Liu said at the end of his visit, according to the South China Morning Post.
The Sri Lankan government last month renewed the agreement with China Harbour Engineering Company (CHEC) concerning the project for another six months, as it had expired.
Cabinet spokesman Rajitha Senaratne said the extension agreement will enable negotiations between the government and CHEC.
A new environmental impact assessment for the proposed project is also to be handed over to the new review committee, local media reported.
A Sri Lankan government announcement on Liu's visit today, however, made no mention of the port city scheme, which is being developed by China Communications Construction Company Ltd, parent of CHEC.
The visit was the first high-level interaction between the two countries since early elections in August returned the national unity government of President Maithripala Sirisena.
Sirisena's victory was seen as confirmation of the defeat of former president Mahinda Rajapaksa in the election of January this year.
During his 10 years in power Rajapaksa developed close ties with China, and China began funding and building the majority of new infrastructure schemes in Sri Lanka, including a new airport, sea port and the Colombo Port City, an ambitious real estate and logistics development on land reclaimed from the sea.
Chinese president Xi Jinping attended the port city groundbreaking ceremony in September last year but the government of Sirisena, who had campaigned on a promise to loosen ties with China, suspended the project after taking office in January.
The Sirisena government also suspended construction of a landmark communications tower funded by China, citing irregularities, and launched a probe into alleged corruption under the Rajapaksa government.
The Colombo Port City would be a strategic node in China's "Maritime Silk Road" initiative, a long-term plan to develop infrastructure along shipping routes to facilitate Chinese exports.