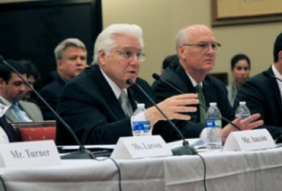 Posted on November 23, 2015
By Alexandra Hernandez, nola
In an effort to secure funding for navigation channel maintenance, Port of South Louisiana Executive Director Paul Aucoin participated in a Congressional Roundtable before the United States Committee on Transportation and Infrastructure on Friday, Nov, 13.
At the request of Congressman Garret Graves (Republican, Sixth District of Louisiana), the meeting was held in New Orleans at the Louisiana State Supreme Court and the discussion focused on "The Importance of Port, Waterway, Flood Control and Ecosystem Restoration Improvements to the Nation's Economy: Concepts for the Next Water Resources Development Act (WRDA)."
Following passage of WRDA 2014, Congress made a commitment to passing a WRDA Bill every two years to fund critical infrastructure projects. By holding the Roundtable, the Committee and area leaders highlighted current issues facing Southeast Louisiana and the need to include them in the 2016 WRDA Bill.
READ FULL ARTICLE HERE