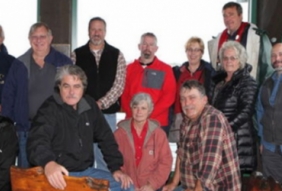 Posted on November 30, 2015
The Port of Bandon recently celebrated a major collaboration that is helping South Coast ports and all those who utilize them.
Dredging of the port's launch ramp is underway, said Port General Manager Gina Dearth, and following that work, the port's marina will be dredged. The 360SL portable dredge and push boat (named the "SoCo" for South Coast), along with 3,000 feet of dredge pipe is being operated during in-water work windows at high outgoing tides throughout the fall and winter to remove 47,000 cubic yards of silt from the marina and launch ramp.
When Bandon's dredging is complete, the dredge will be moved to another South Coast port.
The dredge was purchased by the State of Oregon, with the cooperation of the Oregon legislature and the Governor's office for use by small ports along the southern Oregon coast.
"As a coalition, we cannot thank the State of Oregon enough for their advocacy in purchasing this equipment and their understanding of the importance of what small ports bring to their local economies while operating on small budgets," Dearth said.
Anyone who would like further information can call the port office at 541-347-3206, watch the Port's Facebook page and visit their website www.portofbandon.com for updates and photos.