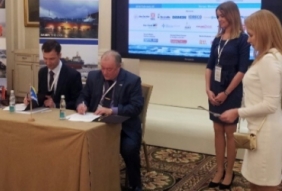 Posted on March 2, 2016
Port Bronka and Boskalis have signed an agreement on dredging works in 2016. The document was signed within the framework of the 3rd International Forum of Dredging Companies organized by Media-Group PortNews.
Access channel of MSCC Bronka consists of two straight parts. The point of turn and conjunction is to be widened. Radius of the channel turns is 945 meters, widening zone – 36 m. The dimensions of the port water area (width of operational area and the turning basin area) are defined in view of mooring operations and the turn of the largest expected vessel assisted by a tugboat.
Multipurpose Sea Cargo Complex "Bronka" (MSCC Bronka) is being built on the southern shore of the Gulf of Finland, where the Dam and the Ring Road border the territory of Lomonosov. The Bronka Complex will comprise three specialized facilities: a container terminal encompassing 107 hectares, the Ro-Ro terminal of 57 ha and a logistics center of 42 ha. Container terminal will have a 1,220 m-long quay wall (including 5 berths). The length of Ro-Ro terminal's dock line will be 710 meters (3 berths). After completion of Bronka Phase 1 its capacity will reach 1.45 million TEUs and 260,000 units of Ro-Ro cargoes. In future the MSCC Bronka expansion will help increase the facility's container throughput to 1.9 million TEUs. Upon completion of the port's construction and dredging to the design mark of 14.4 meters in 2015 MSCC Bronka will be able to accommodate Post-Panamax containerships and the ferries of Finnstar class.