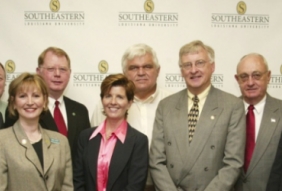 Don Boihem
Posted on January 28, 2016
Don Boihem has been re-elected as chairman of the South Tangipahoa Parish Port Commission.
The commission is the administrative authority for Port Manchac.
Boihem will be serving his second consecutive term.
Other officers for 2016 are Daryl Ferrara, vice chairman; Ernest Drake III, secretary; and Lucas Watkins, treasurer.
Other members are James W. Daniels II, Cheryl Brumfield and William Joubert.
The port commission is a state agency and its members serve without pay.
The commission plans to seek an opinion from the state attorney general for expansion of a vegetation maintenance permit for the area to the west of Port Manchac from the railroad and old U.S. Hwy 51 to Interstate 55.
The commission wants to remove vegetation, such as brush and small trees, and maintain the area at its expense. The current maintenance permit does not cover the entire area, and the commission, a state agency, wants authority to expand the boundaries of the permitted area.
Commission Executive Director Pat Dufresne said he would also like to determine the level of help available from the state Department of Transportation & Development for the maintenance.
In other business, Dufresne said Dow Chemical Co. is interested in storing rail cars at the port. The bulkhead construction project on North Pass has picked up speed now that the weather has improved. Dufreche said the target date for completion is late February.
The commission approved a resolution to the DOTD for authorization to proceed with road striping, an extended loading dock, site grading for drainage, solar lights and excavation at the port.
Dufresne outlined his 2016 goals for the commission. They include:
* Completion of the bulkhead, dock dredging and concrete laydown area, which are part of the $3 million Port Priority Fund application.
* Implementation of the $990,000 polymer pellet/resin container/trans-loading project pending legislative approval.
* Implementation of a revised $770,000 state capital outlay funding program for a potential addition to Building No. 3 to include an internal roadway and drainage.
* Update and revise the lease with Purus Industries to include a pending building expansion project.
* Seek funding during the 2016 for $1.2 million in funding for additional dredging along North Pass to a uniform depth of 10 feet.
* Complete potential long term lease agreement for Building No. 2, 30,000 square feet.
* Continue crude oil trans-loading industry marketing program.
* Install emergency generator with FEMA funding upon completion of the bulkhead project.
* Revise and extend the current right-of-way agreement with Canadian National Railroad to June 2021.