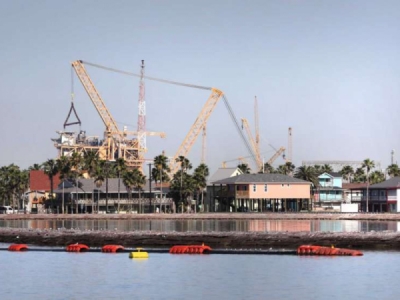 The mammoth crane built by Kiewit Offshore Services Ltd. looms over homes at Ingleside on the Bay. (Bob Owen | Express-News)
Posted on March 16, 2020
Still recovering from Hurricane Harvey, Port Aransas may face a future under Big Oil that some fear will destroy the idyllic vacation spot treasured by generations of Texans.
"Right now, I can see Ingleside where they are loading VLCCs (very large crude carriers); and at night, the lights are unbelievable. And that's 10 miles away," said Holt, a Port Aransas City Council member. "So, I know what it will be like on Harbor Island with no light controls."
Harbor Island sits just across the Corpus Christi Ship Channel from Port Aransas. The funky beach town and Big Oil already exist shoulder to shoulder at the channel, which is used by about 4,900 barges and 1,900 large ships a year.
The largest are the VLCC supertankers —-1,100-foot-long behemoths filled with up to 2 million barrels of oil. A loaded VLCC, longer than three football fields, requires a 75-foot deep channel and a huge turning radius.
Until now, the berths and industrial activity have been kept at a distance. Plans for the island include berths for four VLCCs and dredging a deep channel 10 miles into the Gulf of Mexico.
"Harbor Island has a long and rich history of industrial development. It was once the largest crude marine terminal in the world," said Sean Strawbridge, the CEO of the Port Authority of Corpus Christi.
Source: coastalnewstoday.com