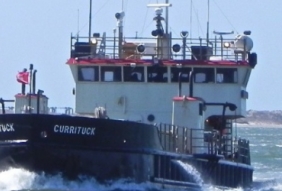 Posted on January 3, 2016
By Sam Walker, The Outer Banks Voice
Dare County commissioners have joined state Sen. Bill Cook, R-Beaufort, in calling for changes to a decades-old document that limits what parts of Hatteras Inlet can be dredged by the U.S. Army Corps of Engineers.
At their board meeting on Dec. 7, commissioners adopted a resolution supporting a letter sent by Cook to Col. Kevin P. Landers, Sr., commanding officer of the corps' Wilmington District, along with other state and federal agencies.
"Due to changes to the inlet over time, the current Federal Authorization, established in the 1940's, has boundaries that are no longer relevant," a county-issued statement said.
READ FULL ARTICLE HERE