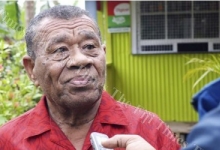 Posted on July 27, 2015
By Talebula Kate, The Fiji Times ONLINE
Residents of Muanivatu settlement have requested the Government to dredge the Vatuwaqa River to avoid the flooding of houses in the settlement during high tide.
Chairman for the settlement Tevita Seru, 67, said this was one of the issues raised during a national development public consultation yesterday at the settlement.
Government teams are holding consultations on the formulation of a five-year and 20-year development plans.
READ FULL ARTICLE HERE