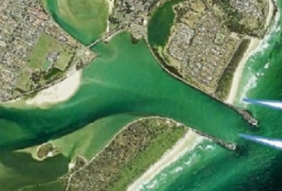 Posted on October 12, 2015
By Rebecca Lollback, Northern Star
PLANS for a "one-off" dredging of the dangerous Richmond River bar at Ballina are moving forward, with up to 30,000 tonnes of sand expected to be removed.
The proposal is to achieve a 4m depth clearance at low tide across a 100m wide channel.
In 2011, when the bar was at its shallowest, it was just 2.6m deep.
Removed sand will be placed at the southern end of Lighthouse Beach near the breakwall, to encourage nourishment of the beaches further north.
The Port of Ballina Taskforce has actively pushed for the river entrance to be dredged.
Taskforce member and environmental engineer James Foster said the taskforce had received a letter from NSW Public Works, via Ballina Shire Council, explaining it was preparing a Review of Environmental Factors on behalf of the Department of Primary Industries for the "one-off" dredge.
READ FULL ARTICLE HERE