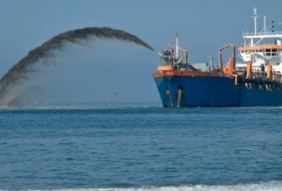 Posted on October 21, 2015
The Engineering Division of Tamil Nadu Fisheries Department, which is dredging the shallow Mandapam north sea for free movement of fishing boats, plans to complete the work by November first week.
The fishing harbour sub-division, which launched the Rs.55-lakh project in April to deepen the channel by 0.6 metre, has covered 280 metres using manual work. Now, it has replaced the divers with machinery to expedite the work, sources said. "We have completed work in a major portion of the channel. It will also facilitate free movement of Indian Coast Guard (ICG) vessels," the sources said.
The channel, which starts from ICG Mandapam Station jetty, was deep enough for free movement of fishing boats and Coast Guard vessels up to 300 metres from the starting point but was only 1.2 metres deep beyond that point. The work had been taken up to deepen a 280-metre-long stretch with 15-metre width from the 300-metre point. After completing the dredging and deepening work, fishermen and ICG personnel need not wait for high tide to move the vessels, the sources said.
A Turicorin-based company, which was awarded the contract, had initially pressed four divers into service but later replaced them with machinery after the divers faced difficulties in cutting dead corals in the area.
Pontoons and earth removers-mounted barge were being used to speed up the dredging work, the sources said adding Collector K. Nanthakumar is expected to inspect the progress next week. The Engineering Division has also sent proposals to the government to deepen the channel in Mandapam south sea.