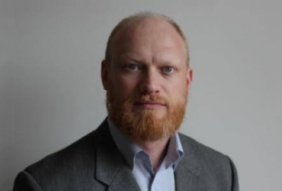 Fulco Vrooland
Posted on April 7, 2016
Ellicott Dredge Enterprises announces that Fulco Vrooland has joined the company as Managing Director of their ROHR-IDRECO Dredge Systems European division. In this capacity he will be working to expand the company's business within Europe as well as internationally.
Fulco brings an impressive background in the maritime sector. He has worked as Chief Commercial Officer of a Japanese manufacturer of specialized marine cargo handling equipment and as Deputy Head of Ship Sales for a Japanese shipyard. Fulco's most recent employer was Royal IHC, where he served as the Commercial Director of the Dredging Division and was a member of its Executive Committee.
Fulco will be working out of ROHR-IDRECO's European offices. He may be reached at fvrooland@dredge.com.
ELLICOTT DREDGE TECHNOLOGIES
Ellicott also announces that Ryan Horton has been promoted from Vice President of Sales for IMS Dredges to a new position as Vice President, Auger Dredges for its Ellicott Dredge Technologies group, based in North America. This newly created position will combine the sales and marketing of all of Ellicott's auger product lines including: IMS Versi-Dredge, with its patented Starwheel self-propulsion systems; Mud Cat™, the original auger dredge; and LWT – Liquid Waste Technology, which designs and makes customized wastewater treatment dredging solutions.

Ryan Horton, Vice President, Auger Dredges
Ryan started with IMS in 1999, first working on the shop floor. He has a degree in marketing from the University of Kansas. Ryan also has several dredge technology patents in his name and is credited with conceptualizing the Depth Master product line and other innovations.
Ryan commented: "My team and I are excited to usher in a new era of innovation by combining the engineering and global sales resources from our world class auger dredge brands."
ELLICOTT DREDGES
Finally, Ellicott advises with pleasure that CEO Magazine selected its Corporate Secretary, Myrna LaBarre, for its Executive Management Award, recognizing her leadership and accomplishments. An independent committee of business leaders selected Myrna for this award based on criteria of finding those who uphold the highest ethics, lead collaboratively and creatively, and enhance and support the organization's mission.

Myrna LaBarre accepting her Executive Management Award
Myrna was honored at a gala reception on March 24th. CEO Magazine noted that after more than 50 years with Ellicott, LaBarre still has what it takes to help newer management members understand how Ellicott works, and how it has stayed in business for over 130 years. Her recipe for success? "To be honest, be helpful, accept your mistakes and improve upon them."
Ellicott's CEO Peter Bowe noted that all three individuals reflect well on Ellicott and its ability to retain and attract talented people.