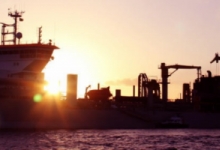 Posted on June 23, 2015
Since 2010, a consortium including Jan De Nul Group has been constructing the new lock complexes at the Panama Canal, one of the most prestigious infrastructure works in the world. The works comprise the construction of two lock complexes, each having three lock chambers, of which each chamber has approximately the same size of Antwerp's Berendrecht Lock. Thanks to this project, the capacity of the Panama Canal will increase by 80%.
At last there is a light at the end of the tunnel. At the Atlantic side the filling of the locks has started this week. During the first phase, which will take 7 days, no less than 6 million m³ is needed for the filling of the locks, with a flow of 50,000 m³ per hour. In less than a year the passage through the renewed Panama locks will be possible for maritime traffic and the country will benefit of the added value of this project.