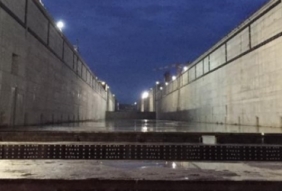 Posted on September 11, 2015
Filling of the new locks began in June, marking the start of a phase of operational testing of the locks, including culvert valves, maintenance bulkheads and gates. As part of this testing, some water seepage was detected at the new Pacific Locks in a section that separates the middle chamber and lower chamber. The seepage was found during stress-testing through exposure to level differentials much higher than those required for normal operations, but that may occur during dry-chamber maintenance works in the future.
The Panama Canal Authority (ACP) is now awaiting a formal report from the contractor Grupo Unidos por el Canal (GUPC) following detailed inspections. The report will analyse the root cause, as well as the recommended repair methodology.
ACP will then assess if the project's completion timeline will be affected. It has appointed two independent structural engineers to conduct an evaluation of the reasons for the issue and assess GUPC's solution.
Overall, the programme has now reached 93% completion. Parallel work presses ahead with testing in other areas as well as with the removal of the strip of land – known as a 'plug'- separating the new Cocolí Locks from the Pacific Ocean, and the completion of the Pacific Access Channel work.