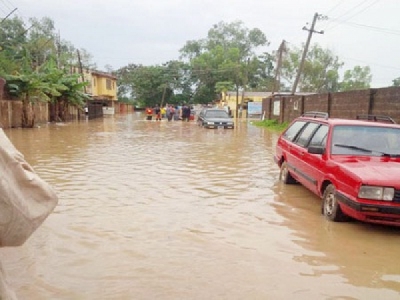 A Flooded Part of Kaduna
Posted on September 8, 2016
By Oseheye Okwuofu, The Nation
OYO state has embarked on fresh dredging of water channels and rivers within flood prone areas in Ibadan metropolis to avert disaster.
The latest action came on the heels of Monday's downpour for six hours, a situation which increased water levels in streams and rivers in Ibadan city.
A source said the dredging would affect areas where flood caused destructions in the August 26, 2011 flood disaster.
It will include Oke-Ayo, Gbekuba, Omi Adio, New Garage and Odo-Ona areas of Ibadan.
Two weeks ago, the government mobilised its officials to embark on house-to-house sensitisation campaign on the need for the residents to keep away from flood prone areas to avoid deaths and destruction of property during this period of rain and flooding.
At Odo-Ona Apata river, government officials were seen dredging the Odo-Ona river, which claimed many lives and properties during the August 26, 2011 flood disaster that ravaged many parts of the city.
One of the officials, who accompanied a Caterpillar used in dredging the river, said the government decided to embark on the exercise to avert flooding this season.
Emergency Management Agency (OYSEMA) officials were also present during the fresh exercise which begun yesterday.
OYSEMA Secretary Mr. Akin Makinde led officials of the state agency to Gbekuba in Ido Local Government to meet with residents last week.
Makinde appealed to the residents to ensure that the drainages were free from refuse dumps to prevent flood disaster.
Source: The Nation