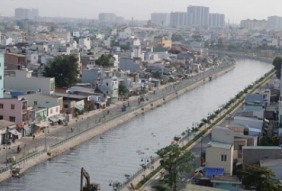 Posted on August 28, 2015
The Ho Chi Minh City Department of Planning and Investment has proposed the city People's Committee to approve a radial canal cleanup project under Public Private Partnership.
Japanese loans will cover VND3,500 billion (US$156 million) out of the project's total capital of VND5,106 billion (US$227.37 million), the body suggested.
The project, developed by a joint stock company, will dredge eight kilometers of radial canals, improve environment and build canal alongside roads and box sewer system to improve water drainage in surrounding areas.
It is scheduled to complete after five years of implementation.
Formerly, the Japanese International Cooperation Agency said that the project aimed to improve the environment and develop traffic infrastructure, therefore Japan might loan 70 percent of the total capital, about VND3,500 billion, if at least one Japanese investor attended in the project.
The main radial canal stretches 6.2 kilometers from Nhieu Loc-Thi Nghe Canal to Vam Thuat River and comprise three branches over two kilometers including Son Bridge, Binh Trieu and Binh Loi.
About 1,620 households are living along radial canals and affected by pollution there.