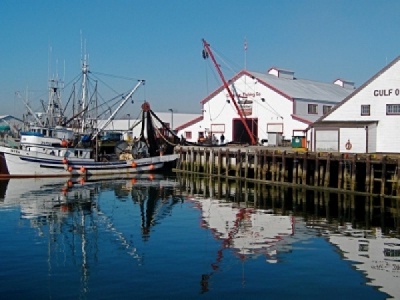 Posted on September 6, 2016
By Gavin Fisher, CBCnews
The federal government announced it will invest $33.5 million to carry out harbour improvement projects — including wharf construction, maintenance and dredging — at 29 small harbours throughout B.C.
"Small craft harbours are the hub for our fishing industry," said Joe Peschisolido, Liberal MP for Steveston-Richmond, who announced the funding on Aug. 31.
"Fish is actually now our second most important food export after wheat, and creates a lot of economic activity. If you want to create wealth … you want to have an efficient economy, you need infrastructure and small craft harbours are an integral part of our infrasturure."
Large portion of funding for Steveston
Almost a third of that funding will go to the Steveston Harbour Authority in Richmond, which serves over 500 commercial fishing vessels.
Steveston-Richmond East MP Joe Peschisolido announced the funding on behalf of Minister of Fishers Dominic LeBlanc, at Steveston Harbour on Aug. 31. (Joe Peschisolido)
He said $9.6 million will go to the two sites (Paramount and Gulf) that make up the harbour and also represent the largest and most active hubs for commercial fishing activity in B.C.
The funding will go towards completing the reconstruction of wharfs, maintenance dredging, and replacing fish sale floats with concrete floats at Gulf.
At the Paramount site, funding will be used to complete the reconstruction of the electrical systems on the floats and service area, as well as reconstructing the fish auction wharf.
Peschisolido said the investment will also help "secondary industries" near harbours across the province.
"You get more fishers coming in and then you get the spin-offs of the tourism, the cafe's. It builds upon itself," he said.
The funding is part of $289 million the federal government is investing across the country in small craft harbours.
Source: CBCnews