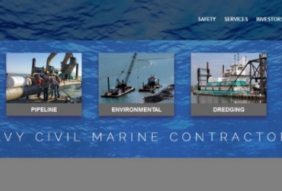 Posted on October 22, 2015
HOUSTON, Oct. 21, 2015 (GLOBE NEWSWIRE) — Orion Marine Group, Inc. (NYSE:ORN) a leading construction company, today announced preliminary results for the quarter ended September 30, 2015 and scheduled a conference call to discuss these preliminary results.
The Company remains confident with both its long term market outlook and its recent acquisition of TAS Commercial Concrete, which is outperforming expectations. During the quarter, the Company bid on approximately $682 million worth of opportunities and was successful on approximately $161 million, representing an overall win rate of 24%. Additionally, the Company is confident in both its outlook for future bid opportunities and its solid end market drivers.
During the third quarter of 2015, five projects in the Company's Heavy Civil Marine Construction segment, specifically managed out of the Company's Tampa, Florida office, experienced significant increases to their respective forecasted costs as a result of changes in management's estimate to complete the projects and/or actual costs incurred when performing and finalizing the projects.
Fundamentally, these changes are a result of a vacuum in the Tampa office's operational leadership as a result of the passing of the Company's former Chief Operating Officer, who was based in the Tampa office and had a significant influence over its operations. This led to mistakes on projects as issues arose, compounding production delays and extending time frames for these projects.
A multi-faceted realignment of the operational management of the Tampa office has been developed and is being implemented to correct the issues on these projects, and to prevent future issues on these or other projects. This includes a realignment of the project management teams, a realignment of the leadership of the Tampa office, and the implementation of a cost reduction program. These actions are intended to ensure that the operations in Tampa return to a profitable position as quickly as possible.
"I'm extremely disappointed with the recent developments in Tampa," said Mark Stauffer, Orion Marine Group's President and Chief Executive Officer. "As the CEO of a Company that prides itself on successful project execution, this situation is completely unacceptable. In our history, we have never had this level of problems on projects, and I am taking aggressive action to ensure we will not have this issue in the future. As recently announced, I have brought on board a quality, seasoned leader for the COO position, and I am confident in his ability to lead our operations. Our efforts in Tampa are focused around completing the projects in question as cost effectively as possible. We expect two of these projects to be completed during the fourth quarter 2015 and the remaining three to be completed by the end of the first quarter of 2016. The performance on these projects is unacceptable, but Orion is a strong Company with a solid legacy and strong future and we have the capacity to rectify this situation. I have, and will continue, to take aggressive actions to ensure this situation is corrected and does not recur. I'm focused on moving our Company forward, positioning us for success and delivering more predictable results in the future."
As a result of these adjustments, the Company has examined its Florida deferred tax asset related to net operating losses, and has determined it is prudent to take a $1 million valuation allowance since a portion of the asset may not be realized in the future. This valuation allowance could be reduced if it is believed this asset will be realized through normal operations.
Additionally during the quarter, the Company completed its previously discussed asset review and it has identified several non-essential or underutilized assets, both equipment and property, that will be disposed of and will result in a one-time, non-cash charge of approximately $2.6 million. The disposal of these assets will not have a material impact on ongoing operations, but will result in an annual expense reduction of approximately $1.2 million.
The impacts from the five Tampa projects, along with one-time, non-cash expenses related to the disposition of under-utilized equipment and facilities, and the valuation allowance on a portion of the Company's Florida deferred tax asset, will significantly affect the Company's third quarter results. As a result of these events, the Company believes it will post a third quarter 2015 loss in the range of ($0.25) – ($0.30) per share.
More detailed information about these events and their impact on third quarter results will be discussed during a conference call today, October 21, 2015 at 9:00 AM CDT / 10:00 AM EDT. To participate in the call, please call the Orion Marine Group Conference Call Line at 855-478-9690; Participant code: 62820419.
About Orion Marine Group
Orion Marine Group, Inc., a leading construction company, provides services both on and off the water in the continental United States, Alaska, Canada and the Caribbean Basin through its heavy civil marine construction segment and its commercial concrete segment. The Company's heavy civil marine construction segment services includes marine transportation facility construction, marine pipeline construction, marine environmental structures, dredging of waterways, channels and ports, environmental dredging, design, and specialty services. Its commercial concrete segment provides turnkey concrete construction services including pour and finish, dirt work, layout, forming, rebar, and mesh across the light commercial, structural and other associated business areas. The Company is headquartered in Houston, Texas with offices throughout its operating areas.