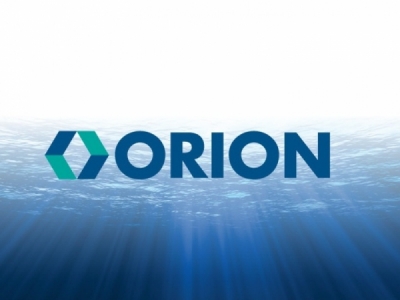 Posted on November 12, 2020
Orion Group Holdings Inc., a leading specialty construction company, had net income of $11.8 million, or $0.39 diluted earnings per share, for the third quarter, the company announced October 28. The numbers are increases from the $4 million or $0.14 per share reported for the same quarter of 2019.
Contract revenues for the quarter, however, were down 5 percent from a year ago: $189.4 million in 2020 versus $199.5 million in 2019.
The third quarter 2020 net income included $2.5 million of non-recurring items and $2.2 million of tax benefit associated with the movement of certain valuation allowances. If those items are removed, third quarter adjusted net income would $7.1 million, or $0.23 per share.
Orion reported a $428.8 million backlog at the end of the quarter.
Waymon Boyd Explosion
During the quarter, an explosion and fire occurred in the Port of Corpus Christi Ship Channel while the company's dredge Waymon L. Boyd was working near a pipeline, which resulted in the deaths of five crewmen and injuries, some severe, to several other crewmen (WJ, August 31).
"Our primary concern remains the well-being of our crew members and their families involved in this incident," said Mark Stauffer, Orion's president and CEO, in the October 28 earnings announcement. "Safety is an integral part of our Guiding Beliefs at Orion, and we remain deeply committed to our Target Zero program to support our vision of an incident free-workplace. Our support, thoughts and prayers remain with the crew of the Waymon Boyd and their families."
As a result of the accident, Orion's third quarter results include a net $2.9 million gain on the disposal of assets related to insurance recoveries as a result of the loss of the dredge and associated vessels. Orion is currently evaluating the best dredging asset alternatives to reinvest this capital. In the meantime, the company said it is confident that it has the equipment and personnel to perform dredging on all existing contracts involving dredging services. The cause of the incident remains under investigation, led by the National Transportation Safety Board, and the company said it continues to fully cooperate with the NTSB and other governmental agencies.
Improved Operating Performance
"Turning to our financial results, year over year consolidated bottom line growth was driven by continued improved operating performance in both segments," Stauffer said. Our concrete segment saw significantly improved operating performance despite revenues being down year over year due to tropical weather in Texas impacting production at the end of the current year quarter. Despite the challenges faced during the quarter, our marine segment saw sequential improvement in operating performance and EBITDA margin.
"We continue to see bidding activity in both our segments being driven by end markets that are continuing to operate during the COVID-19 pandemic," he continued. "We continue to focus our efforts on targeting the end markets and projects we expect to have the best opportunities to be successful and profitable moving forward. A key element of our growth strategy is the wide array of end markets we serve, which enables us to pursue the most attractive bid opportunities in the end markets that are performing the best at any given point in time, and this strategy serves us well in this challenging and uncertain environment."
Stauffer concluded, "We remain confident in our ability to efficiently and profitably execute our projects in backlog, and in our ability to maintain and grow our backlog level by targeting and winning new bid opportunities. Our liquidity position remains strong and provides us with more than sufficient financial flexibility to continue to pursue new awards and execute existing backlog. Our team is focused on continuing to perform well despite the macroeconomic challenges. With our diverse end markets, broad range of construction capabilities and assets, and our highly experienced and professional personnel, we are confident in our ability to deliver increasing levels of profitability and free cash flow in the quarters and years to come, particularly in a post-pandemic environment."
Orion's backlog at the end of the quarter included $241.7 million for the marine segment and $187.1 million for the concrete segment. Currently, the company has approximately $1.1 billion worth of bids outstanding, including approximately $108 million on which it is the apparent low bidder or has been awarded contracts subsequent to the end of the third quarter, of which approximately $49 million pertains to the marine segment and approximately $59 million to the concrete segment.
"During the third quarter, we bid on approximately $734 million of work and were successful on approximately $90 million of these bids," stated Robert Tabb, Orion Group Holdings' vice president and chief financial officer. "This resulted in a 0.47 times book-to-bill ratio and a win rate of 12.2 percent. In the marine segment, we bid on approximately $232 million during the third quarter 2020 and were successful on approximately $42 million, representing a win rate of 18.3 percent and a book-to-bill ratio of 0.38 times. In the concrete segment we bid on approximately $502 million of work and were awarded approximately $47 million, representing a win rate of 9.4 percent and a book-to-bill ratio of 0.62 times."
Orion Group Holdings, a leading specialty construction company serving the infrastructure, industrial and building sectors, provides services both on and off the water in the continental United States, Alaska, Canada and the Caribbean Basin through its marine segment and its concrete segment. The company's marine segment provides construction and dredging services relating to marine transportation facility construction, marine pipeline construction, marine environmental structures, dredging of waterways, channels and ports, environmental dredging, design and specialty services. Its concrete segment provides turnkey concrete construction services including pour and finish, dirt work, layout, forming, rebar and mesh across the light commercial, structural and other associated business areas. The company is headquartered in Houston, Texas, with regional offices throughout its operating areas.
Source: waterwaysjournal