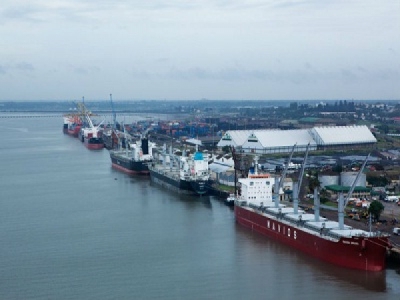 Posted on September 13, 2016
By Harry Valentine, The Maritime Executive
Plans are underway along the East African coast to expand existing maritime terminals and to develop new terminals, in particular along the Kenyan and Tanzanian coasts. Infrastructure developments including dredging operations and rail links, could make a significant difference to the economic outcomes.
While development of a new terminal located to the northeast of Mombasa at Lamu is underway, the recently elected new Tanzanian Government has opted to curtail expenditures involved in developing a new port to the northeast of Dar es Salaam and has chosen to increase the size of the existing port. Dredging is underway at the Port of Maputo in Mozambique from 11 meter (36 foot) keel depth to 14.2 meter (46.6 foot) keel depth.
Port of Maputo
The container terminal quay at Maputo is allocated a berth/quay of 300 meter (984 feet) in length and dredging would allow a vessel such as the 337 meter (1,106 foot), 9,200 TEU container ship MSC Pamela that sails with 12.8 meter (42 foot) draft and 46 meter (151 foot) beam to call at Port of Maputo. In the future, port authorities may need to explore allocating additional berth/quay length to the container terminal.
Railway lines connect Maputo to Pretoria and Johannesburg in South Africa as well as Lusaka in Zambia and Harare in Zimbabwe. The Maputo – Johannesburg railway distance is almost identical to the Durban – Johannesburg railway distance.
While Port of Durban is sub-Saharan Africa's largest and busiest container port, the overland connections to the very populous Greater Johannesburg extended metropolitan area are operating near full capacity. The railway link between Maputo and Johannesburg promises to increase the number of containers that could move between seaports and the Johannesburg area.
While Port of Ngqura near Port Elizabeth can berth neo-Panamax ships of 12,000 to 14,000 TEU, the railway distance to Johannesburg is almost double the Maputo – Johannesburg distance.
Amidst much opposition, there are future plans to expand the Port of Durban.
Port of Durban
At Port of Durban, some berths have actually reverted to earlier depth levels due to big ships stirring up silt and sand on the port seabed. Long-term plans call for port expansion to process four times the number of containers, except those plans have elicited much public opposition.
The 400 meter (1,300 foot) wide northeastern channel entrance at Port of Durban faces a southeast flowing ocean current. During tidal changes, seawater carrying suspended grains of sand could actually flow into the port slightly faster than it would flow out of the port. Revising the port entrance may be an option.
The angle and profile of breakwaters at Ports of Ngqura and Cape Town deflect the ocean current away from the coast, causing tidal seawater to flow faster from the port than into the port, possibly reducing build-up of sand and silt. Tidal movement at the Port of Durban and the amount of sand that the tides carry to and from the port would likely be a future subject of research into extending the duration over which the port would remain at maximum depth. The breakwater precedents from other South African ports would be one aspect of the research.
Mega-Ships at Durban
A massive amount of trade and commerce depends on Port of Durban being able to successfully transform into a deep-water container port, possibly with water depth of 17 to 18 meters (59 foot) to berth the biggest future container ships that could be built to sail between South America and Asia. Such future ships could measure 65 meter (213 foot) beam by 430 meter (1,410 foot) length and carry some 26,000 TEU.
Durban would be an essential future destination for such a ship that would return to Asian ports, with an expanded future Port of Cape Town serving as the transshipment port for such a mega-ship.
Future growth and development at the inland mega-metropolis of the Greater Johannesburg area would increase future container traffic along the already constrained railway lines and roads to/from the sea ports.
Rebuilding the railway infrastructure between Durban and Johannesburg to carry double-stacked containers would be an expensive undertaking and would likely be delayed years into the future. Maintaining the present overland transportations links between Johannesburg and the coast without increasing their capacity could require that increased future container traffic volumes move through both Port of Durban as well as Port of Maputo.
Railway Connections
The Tam-Zam Railway line connects the Port of Dar es Salaam to several inland countries that includes Zambia, southeastern Congo and Northwestern Zimbabwe, with the combination of railway and inland waterway links connecting Dar es Salaam to Uganda, Rwanda and Burundi.
However, the upgraded East African Railways line between Mombasa and Kampala/Entebbe promises to capture a greater percentage of Ugandan overseas container traffic. As container traffic grew over the past two decades, wide port entrances at several East African ports compensated for the shallow 10 meter (33 foot) draft and allowed wide-beam (38 meter, 125 foot), shallow draft ships of 4,500 TEU to berth at quayside.
Kenya/Tanzania
The Government of Kenya is developing a new port to the northeast of the Port of Mombasa, to be known of Port of Lamu. To the south of Kenya, the Government of Tanzania had planned to build a mega-port to the north of the present port of Dar es Salaam however fiscal constraints have resulted in the new government showing a preference to expand the Port of Dar es Salaam. Government of Kenya has encountered some fiscal restraint in developing Port of Lamu that includes railway lines that will extend inland to Nairobi and north into Ethiopia.
At the Gulf of Aden, port expansion is underway at the Port of Djibouti. A railway line connects Port of Djibouti to Addis Ababa in Ethiopia with future railway links planned to extend into Southern Sudan. Ports Dubai (DP Ports) manages the Doraleh container terminal at Port of Djibouti as well as the Port of Berbera located to the southeast of Djibouti, in northern Somalia. DP Ports also manages the container terminal at Port of Maputo. Future railway links could offer Ethiopia a choice of ports through which to ship containers and bulk cargo.
Regional Transshipment Ports
Increased trade between East Africa and Asia enhances the economics of operating regional transshipment ports. The Seychelles are a group of islands conveniently located on the sea route between major Asian ports and the evolving ports of Tanzania and Kenya. While Seychelles is a promising location for a transshipment port, one of the Central East African ports can also serve as the other's transshipment port. Further to the east, the massive transshipment Port of Colombo is conveniently located to serve the trio of East African ports at Djibouti, Tanzania and Kenya.
The Port of St Louis at Mauritius functions as a transshipment port for several small island states and is on the sea route between several major Asian transshipment ports and the ports of Durban and Maputo. Except that the sheer volume of container traffic that moves between Asian and Southeastern African ports often results in ships sailing at near full capacity between the major transshipment ports, with minimal space onboard to carry additional containers that could be offloaded at Mauritius or at a possible future port at the southern tip of Madagascar.
Conclusions
Much progress has occurred at the privately managed (Ports Dubai) container terminals at Ports of Maputo, Djibouti and Berbera. Much future growth in container traffic is expected at Maputo and Djibouti.
Fiscal constraints have postponed development of a new maritime port in northeastern Tanzania and have slowed development of a new maritime port in northeastern Kenya. The close proximity between the Tanzanian and Kenyan ports allows one port to serve as the other's transshipment port.
East Africa's premium port at Durban requires expansion and research aimed at maintaining greater water depth with minimal future dredging. An extended breakwater may be a future option.
There are two precedents in South Africa where breakwaters deflect the ocean current and waves away from the coast. These precedents could serve as a basis to reduce sand buildup in the berth area of Durban.
Source: The Maritime Executive