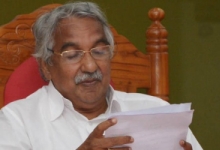 Posted on July 30, 2015
All efforts will be made to streamline the much lauded International Container Transhipment Terminal (ICTT) at Vallarpadam, Kerala Chief Minister Oommen Chandy said on Monday. The ICTT was opened in 2011.
"I assure the house that very soon, I will be calling a meeting of all concerned to see how best we can rev up the operations. I have already requested the Centre to sanction a dredging subsidy for three years," Chandy informed the state assembly. Congress legislator Benny Behanan brought to the attention the present condition of the terminal and pointed out that the single biggest deterrent of the terminal was that every year Rs.110 crore was required for dredging.
READ FULL ARTICLE HERE