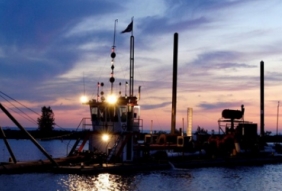 Posted on August 28, 2015
Onezhsky Shipyard plans to build dredging equipment to the order of FSUE Rosmorport. This issue was discussed at the meeting of the first deputy head of Karelia Oleg Gromov with the representatives of Rosmorport and Wasa Dredging (Finland), says press center of the Republic of Karelia.
Wasa Dredging works as a marine offshore and inland water construction company mainly in the Nordic countries, the Baltic countries and Russia. WD is using dredging equipment of its own design and construction. WD specialize in port and channel dredging, trench dredging and environmental dredging using backhoe dredgers.
"Such equipment is not produced in Russia today though it is very much in demand," said Andrey Tarasenko, Director General of FSUE Rosmorport.
According to Vladimir Mauzus, Director of the shipyard, the order of Finnish shipbuilders means new jobs and additional profit and, consequently, payments to the budget of Karelia.
He said all equipment required for such production is available at the shipyard. The employees are supposed to be trained at the educational institutions of Karelia.
Onega Shipyard (Onezhsky Shipbuilding Plant) was founded in 1944.