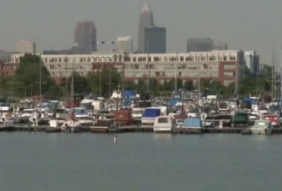 Posted on March 29, 2016
The Ohio Environmental Protection Agency has approved a request by the U.S. Army Corps of Engineers to dredge Cleveland's harbor and the Cuyahoga River to make them safe for shipping traffic.
The EPA announced recently that the Army Corps can dredge up to 225,000 cubic yards of material from the Cuyahoga River and dump it at approved disposal facilities at federal expense.
The EPA's dredging certification forbids the Army Corps from dumping dredged material in Lake Erie, which the Corps has maintained wouldn't be harmful to the lake's food chain.
The EPA has countered that dumping dredged material saturated with pollutants such as PCBs would cause those poisons to enter the food chain, and cause bioaccumulation in fish while violating international treaties and other agreements.