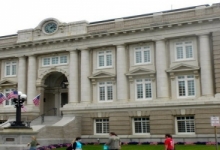 Posted on August 15, 2015
By Anthony Bellano, Ocean City Patch
Ocean City Council passed an ordinance and two resolutions dealing with the dredging of back bays and lagoons in the city Thursday night.
There will also be a town hall meeting to provide a complete update on the project on Aug. 25 at the senior center, Mayor Jay Gillian said during Thursday night's council meeting at City Hall.
The first order of business was to pass an ordinance on second reading that calls for the overall appropriation of $2,693,000 and the borrowing of $2,558,350 for various projects, including the $2,632,500 needed to move spoils from Site 83 to Wildwood to pave the way for the dredging project.
READ FULL ARTICLE HERE