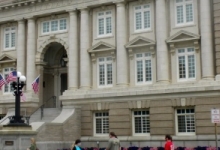 Posted on July 30, 2015
By Anthony Bellano, Ocean City Patch
Ocean City Council approved an ordinance on introduction that calls for for the overall appropriation of $2,693,000 and the borrowing of $2,558,350 for various projects.
This included the $2,632,500 needed to move spoils from Site 83 to Wildwood to pave the way for the dredging of back bays and lagoons in Ocean City.
Of the nearly $2.7 million reserved for dredging, $1,350,000 is to be appropriated, and the City will borrow $1,282,500 for the rest of that portion, which includes a beachfront renourishment project to be conducted in conjunction with the U.S. Army Corps of Engineers and the State.
READ FULL ARTICLE HERE