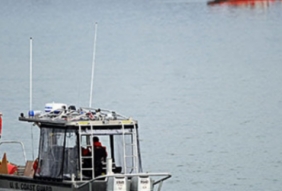 Posted on November 18, 2015
North Carolina ferry captains say shoaling between Hatteras and Ocracoke islands has created some of the worst conditions they've seen.
Capt. Timmy Jennette slowed his ferry to 4 mph last week to slither around one of two shoals that stretch hundreds of feet in the middle of the five-mile channel. His depth gauge showed dashes instead of numbers and he felt a gentle nudge as the ferry glanced the channel floor. The water was so shallow that gulls perched on the two strips of sand.
"It's so narrow there that if the wind's blowing really hard this way and pushing against our side it'll put us up on the shoal," Jennette, who's in his 12th year as a ferry captain, said while making a special trip to view the shoaling. "There's some times when you're sweating."
The areas of shoaling, created by shifting sands after Hurricane Irene last August, have caused problems. Captains now use smaller vessels to transport vehicles, slow their speeds to avoid getting stuck and stagger departure times so just one ferry at a time has to angle around the shallow spots.
The ferry is Ocracoke's lifeline, its residents' only access to everything from grocery stores to hospitals. It brings supplies to run restaurants and hotels, along with vacationers to sustain the island's businesses. Last year, it carried 727,475 passengers, according to the North Carolina Department of Transportation, which runs the ferry system.
The U.S. Army Corps of Engineers, which maintains the federal waterway, has asked Congress for money to dredge the channel. As spring approaches, Ocracoke business owners and community leaders are concerned that if it's not dredged quickly, it could cripple a local economy still recovering after Hurricane Irene ended last year's tourist season early.
Ocracoke residents say they know local officials and the Corps of Engineers are aware of the problem, and they hope representatives in Washington realize how serious of a financial impact this could have.
"There's always an underlying fear that it may not happen," said Ann Warner, owner of Howard's Pub, "but being optimistic, we hope the powers that be move expeditiously."
U.S. Rep. Walter Jones, a Republican whose 3rd District includes the Outer Banks, has asked the corps to pay for dredging the channel with a portion of the $534 million in disaster funding it received in December, a spokesman for his office said. U.S. Sen. Kay Hagan, D-N.C., pledged support to find funding.
Roger Bullock, chief of navigation for the Corps of Engineers' Wilmington district, said that in past instances Congress has taken about a month and a half to allocate dredging money. In the meantime, the corps is surveying the channel to determine whether there are alternative ferry routes.
The Coast Guard does not foresee having to restrict the channel, Capt. Anthony Popiel said. Last month, a sailboat got stuck in one of the shallow areas, he said, but so far the shoaling hasn't stranded any ferries.
The smaller vessels that run the ferry route now carry a maximum of 28 cars. The large ferries could carry a maximum of 38, Jennette said.
Travelers should be delayed about five minutes because of staggering the ferry departure times, he said. Windy conditions have also forced the ferry to shut down a few times.