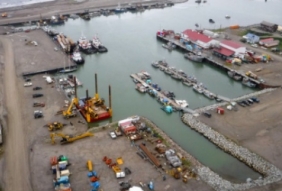 Posted on August 28, 2015
By Emily Russell, knom Radio Mission
Nome's ability to attract investors and secure its role in offshore Arctic activities continues to be the main focus of the city's Port Commission.
At this month's meeting, the commission shared concern over its inability to attract big business and even bigger visitors to Nome this summer. Along with Shell running its summer drilling operations out of Kotzebue, the White House's decision to skip over Nome and visit Kotzebue instead during the President's upcoming visit to Alaska means even less business for the city.
The consensus among commissioners is that constructing a deep draft port is their best bet increase traffic and investment in Nome. At their meeting last week, they debated dredging to just 28 feet or committing to the 35-foot depth required by the U.S. Army Corps of Engineers for a deep-draft Arctic port.
READ FULL ARTICLE HERE