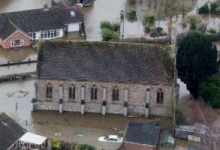 Posted on August 11, 2015
Nine out of ten homes in the worst-hit area of the Somerset Levels would have stayed dry if the Environment Agency had dredged the rivers and installed temporary pumps, officials have finally admitted.
And the revelation has sparked renewed calls for the question of funding the dredging in the future, after the authorities admitted there still is no guaranteed money in place for the issue in 2016 and beyond.
The Environment Agency said it ran a computer model of the unprecedented rainfall and river flows of the winter of 2013 and 2014 to recreate the conditions on the Levels that saw villages submerged and a huge "inland sea" created for more than two months.
READ FULL ARTICLE HERE