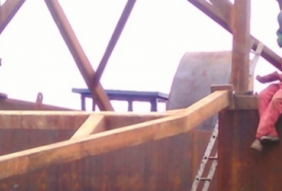 Posted on October 28, 2015
Acquisition of effective and durable dredging machine could only be achieved by importation. This was the belief until Nwakama Dredge Nigeria Limited; a local fabrication company based in Port Harcourt, Rivers State, recently undertook a one-day public inspection of 18-feet Cutter Suction Dredger it designed and constructed.
Following the wide publicity given to the inspection exercise, members of the Port Harcourt branch of Institution of Mechanical Engineers, led by their President, Chief A.C. Uchime paid a technical/facility visit to the construction yard of Nwakama Dredge Nigeria Limited at Oyibo Local Government Area to see things for themselves.
The visitors, who took time to inspect the dredger machine under construction among other departments in the firm to ascertain whether or not it has what it takes to meet the required condition, including safety standard to handle such huge and complicated heavy duty equipment, expressed satisfaction with the work, describing it as amazing.
The machine being constructed has the capacity to hold 33,000 litres of diesel, crew living room with amenities, crew kitchen, water closet, spud pillars, radio communication system and vessel tracking system. The ladder length of the dredger is 22 metres.
The inspectors were sufficiently impressed, even as they marveled that the company had gone this far without any form of government or bank assistance Uchime said: "I am highly impressed with what I have seen. This dredger involves a lot of mechanical engineering works.
"There is clear case of adoption of first principles which guarantee the laying of sound foundation."
Also speaking the Public Relations Officer (PRO), of the Institute, Mr. Michael Jarikre urged the company to promptly identify with the Nigeria Local Content Development and Monitoring Board for the needed support.
He expressed joy that a Nigerian company could embark on designing and construction of dredgers of this magnitude that hitherto were imported.
He remarked that the technical/facility tour was expository, having learnt a lot.
After the inspection, the Managing Director of the firm, Elderd Nwakama Onwuzuruigbo fielded questions from the visitors and reporters.
Excerpts:
Funding is crucial to Nwakama Dredge activities. How do you raise finance for your projects? Do Nigerian banks offer you facilities with fair interest?
The banks have not been useful in the area of granting us funds. We have made every effort over the years. Surprisingly, the same bank that receives payments from our customers is not interested in funding the same enterprise that makes the money it is banking.
We have resolved to approach the Bank of Industry (BoI). We hope it works out well. Dredgers are highly capital-intensive. We save the nation huge foreign exchange by providing efficient and durable dredgers that would have hitherto been imported, thereby protecting the value of the Naira. At the moment, we only entertain cash-backed orders.
What is unique about your dredgers that would people make people prefer yours to others produced locally and internationally?
Our dredgers are unique because we have employed engineering customisation to give our dredgers the needed edge over other dredgers.
Why buy from us?
You will have the opportunity of deciding what length of ladder that would best suit your environment. Most rivers close to urban centres have been well-deepened due to dredging activities. You need a long ladder dredging machine to operate in such terrains. This is where our equipment has competitive advantage over others. While imported dredgers are struggling to get sand, owners of our dredgers are smiling to the bank.
You will have the opportunity of having the equipment powered by an engine, pump and other accessories from reputable OEMs that guarantee long life span.
You will have the strategic advantage of enjoying the best after-sales-service from the same company that designed, constructed and assembled the dredge machine. This backup guarantees optimal production and particularly allows for transfer of technical know-how to your dredge crew.
You will have the advantage of acquiring a reliable business asset at a cost-competitive rate that saves you fortune. Your return on investment (ROI) increases tremendously.
You will enjoy a six-month free technical services package.
You will have the assurance of money-back guaranty should the equipment fail to meet your expectations.
Again, our dredgers are unique because we deliberately avoid highly electro-technical components and make use of simple electrical and hydraulic systems that don't pose many challenges to dredge technical crews. We keep it simple and efficient. You don't need software to troubleshoot our dredgers at the moment. When our environment gets to that, we will promptly deploy such technology.
In appreciation of the uniqueness of our dredgers, we applied and got a trademark name for our dredgers, which is DGO DREDGERS. Currently, we are undergoing SON e-product certification of our dredgers.
What are the core challenges of building dredgers in Nigeria and how are you tackling them?
The core challenges we face as dredge builders are finance, finance and finance. In our own case, we have the technical ability to design and construct highly efficient dredgers that can compete favourably with world dredge brands. The only challenge we have been having is access to funds to make our dredgers available to buyers when they are needed.
Timely project delivery is one of our revered values. However, we are currently behind schedule in the delivery of the novel 18? /16? CS Dredger principally due to persistent rainfall. Our welding area is out door and this has exposed us to the vagaries of weather.
This is one of the challenges to address with adequate funding. Notwithstanding, the Dredger is about to be sandblasted in preparation for anti-corrosion treatment and then painting. We are using President Paints which have proved to be very good. The paints are proudly made in Nigeria.
What can government do to help boost your trade?
We need access to funds to improve our production capacity. We will soon seek audience with the Managing Director Bank of Industry, Mr. Rasheed Olaoluwa. The present management of BOI as led by the MD is really playing a very crucial and catalytic role of transforming Nigeria's industrial sector.
Again, our economy will keep getting better if all the relevant agencies would give heed to President Buhari's exhortation to the Permanent Secretary, Federal Ministry of Industry, Trade and Investment, Abdulkadir Musa, and other senior officials that "we will no longer allow our markets to be flooded with things we can produce ourselves. We must believe in our system. Whenever you need my intervention at any time, please come to me".
Thankfully, the Nigerian Content Development and Monitoring Board (NCDMB), led by its Executive Secretary, Mr. Denzil Kentebe has been tremendously supporting every initiative geared towards developing Nigeria's local content."