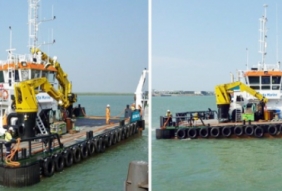 Posted on February 1, 2016
Acta Marine is pleased to announce the latest addition to our fleet: Coastal Ace. This Multicat vessel strengthens our fleet and will enable us to provide better service to our clients on their shallow water projects.
The Multicat vessel, purchased in Australia, is an elegant 26.48 meters long. She is equipped with two large cranes, a 1x100T and a 1x50T winch and has the capacity to deliver up to 35 tonnes of bollard pull. Coastal Ace has enlarged and strengthened our Multicat fleet, enabling us to better assist our clients with their shallow water projects.
Coastal Ace already deployed
Coastal Ace will shortly be deployed on her first project for Acta Marine; a dredging and reclamation project in the waters of Taiwan. Thus beginning our fifth project in Asia. Our vessels provide marine services to a large variety of clients, all over the world. Acta Marines experience reaches beyond the shallow waters of Europe. Our workboats also provide maintenance and general support in the Middle East, Africa and Australia. Coastal Ace is an investment for all of us. This particular 2.5 year old 2611 Eurocarrier was built by the Neptune Shipyards, in the Netherlands.
Suitable for a variety of projects
Acta Marine & Acta Marine Wind services jointly operate more than fifty different vessels, serving offshore wind, dredging & construction and the oil & gas industry. We are able to work at an operational draft of only two meters. Our latest addition, Coastal Ace, secures a brighter future for ourselves, our investors and most importantly, our clients. Stay tuned for updates regarding Coastal Ace!