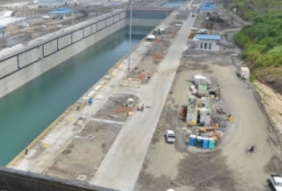 Posted on February 8, 2016
After more than a year-long delay, a new set of larger locks for the Panama Canal will be complete by the end of June, the waterway's administrator said on Wednesday, after builders repaired cracks that had formed in the concrete walls.
The consortium building a third, bigger set of locks on one of the world's busiest maritime routes, headed by Italy's Salini Impregilo and Spain's Sacyr, is now in testing, the final step before the project's inauguration, said Jorge Quijano, who leads the Panama Canal Authority (ACP).
Panama should start to benefit from the expansion in 2017, when the government foresees getting an extra $1.4 billion in revenue, a jump of 30 percent compared with this fiscal year.
The project was initially set to be finished at the end of 2014, but the date was pushed back to April of this year due to a dispute between the administrator and the building consortium over costs. The plan was originally set at $5.25 billion, but the builders successfully argued for an extra $3.2 billion, of which the government has paid $250 million so far.
Quijano told Reuters last year that he was now setting his sights on an even more ambitious project worth up to $17 billion that would allow the waterway to handle the world's biggest ships, via yet another even larger set of locks.