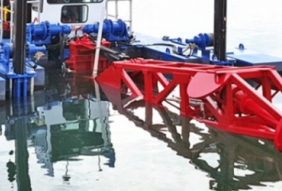 Posted on October 30, 2015
By Jayati Ramakrishnan, Curry Coastal Pilot
The Port of Brookings Harbor is the operator of a new dredge purchased by the state of Oregon to serve south coast ports from Reedsport to Brookings.
Brookings port officials spearheaded the effort to purchase the dredge and the state selected the port to oversee its operation along the coast, said Port Manager Ted Fitzgerald.
The dredge, an Ellicott 360 Swinging Dragon, is in Bandon this week, dredging 40,000 cubic yards of debris at the port.
A new dredge will be used to remove debris such as silt, rocks and slime that collect in the harbor, material that often makes it difficult for boats to navigate the boat basins.
READ FULL ARTICLE HERE