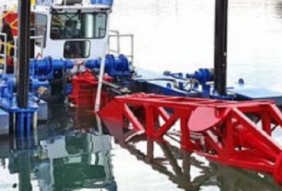 Posted on March 3, 2016
By Randy Robbins, Curry Coastal PILOT
Thanks to a cooperative agreement between the South Coast Ports Coalition and the state of Oregon, a $700,000 Ellicott 360 Swinging Dragon dredge named The Laura, will be used to clear mooring basins inside of breakwater areas at ports from Brookings north to Coos Bay.
Individual ports will foot the bill for the transportation, set up, use and return of the 33-ton vessel, according to Gold Beach Port Manager James Clemens.
"Our bay is currently at a depth of 5 to 6 feet at low water and, like other ports, that is a problem," he said.
READ FULL ARTICLE HERE