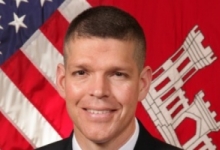 Posted on August 6, 2015
By Eileen Williamson, dvids
Henderson accepted the flag for the U.S. Army Corps of Engineers, Omaha District as the new district commander.
Brig. Gen. Scott A. Spellmon, Northwestern Division Commander conducted a change of command ceremony at the Double Tree HotelGrand Ballroom in downtown Omaha, recognizing the arrival of the new commander.
Henderson comes to Omaha from serving as the U.S. Army War College Fellow to theMassachusetts Institute of Technology Security Studies Program. Prior to that, he served as executive officer to the commanding general for the U.S. Army's 1st Corps located at Joint Base Lewis McChord, Wash. Henderson is a native of South Dakota and a graduate of theSouth Dakota School of Mines and Technologywith a master's degree in Civil Engineering. He was commissioned in the U.S. Army Corps of Engineers in May 1994.
READ FULL ARTICLE HERE