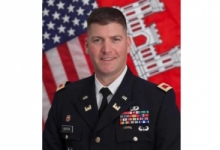 Posted on June 19, 2015
Col. Marvin L. Griffin will take command of the Savannah District, U.S. Army Corps of Engineers, from Col. Thomas J. Tickner in a formal ceremony at 10 a.m. Friday.
Brig. Gen. C. David Turner, commander of the Corps of Engineers' South Atlantic Division, will officiate at the formal change-of-command ceremony in the Hyatt Regency Hotel.
READ FULL ARTICLE HERE