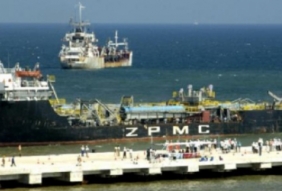 Posted on February 23, 2016
The signing of Letters of Exchange between Nepal and India for using Visakhapatnam Port as an alternative EXIM gateway for the Himalayan country will benefit both the countries in strengthening their economic ties.
After yearlong consultations culminating in the visit of Nepal's Minister for Commerce Deepak Bohara and Ambassador Deepak Kumar Upadaya last month and the signing of agreement between Prime Minister Narendra Modi on Saturday with his Nepal counterpart K.P. Sharma Oli is considered a major breakthrough.
During the visit of Nepal team to the city, Visakhapatnam Port Chairman M.T. Krishna Babu and Deputy Chairman P.L. Haranadh had shown the existing facilities and explained how they could complete dredging to handle larger draft vessels and incorporated changes for removing bottlenecks to improve efficiency parameters.
Nepal is banking on the port facility for handling containers, fertilizers, coal and project cargo. Though it had arrangement with Kolkata and Haldia port earlier, it ran into rough weather due to several reasons. As per the Letters of Exchange, train facility connecting Visakhapatnam with Kathmandu will also be worked out after sometime. Nepal is expecting to increase its GDP growth to eight to 10 per cent in the next seven to eight years.
BCG recommendations
On the basis of recommendations of the Boston Consulting Group (BCG) to remove the bottlenecks, the port has initiated several measures to improve efficiency as it has plans to increase its capacity from 93 million tonne to 125 million tonne in a couple of years with a total investment of around Rs.4,000 crore.
A port official said due to series of initiatives, they could cut down pre-berthing detention from 2.77 to 1.65 days, turnaround time from six to four days and ensure improvement in output per ship per berth-day from 10,317 tonne to 12,296 tonne.
The port recently completed dredging in inner harbour to handle fully laden Panamax vessels with a draft of 14.5 metres.
As part of mechanisation and modernisation, projects are under way for development of Ore Handling Complex at a cost of Rs.845 crore, expansion of container terminal at a cost of Rs.633 crore and conversion of east quay-2, 3, 4 and 5 berths into two berths by raising draft to 14 metres from 11 metres to simultaneously handle two Panamax ships.