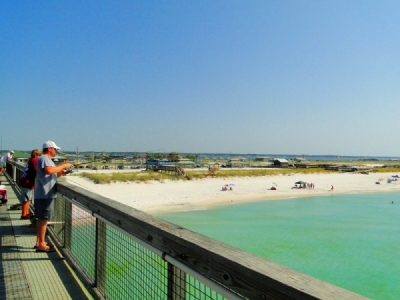 - Lauren Tjaden
Posted on April 15, 2019
NAVARRE BEACH — Nearly a decade ago, the newest version of the Navarre Beach Pier opened with much fanfare from residents and fishermen.
The blows from Hurricane Ivan in 2004 and Hurricane Dennis in 2005 had closed the pier for six years when their storm surges buckled the middle of it.
Proclaimed the longest pier in Florida at 1,545 feet, the popular pier over the Gulf of Mexico again needs major renovations. Planks are deteriorating along with surrounding decks and ramps at Wind Jammers restaurant located at its foot on the beach.
The pier is pockmarked with rectangular pieces of plywood that cover the deteriorated wooden beams. Orange paint has been sprayed around the edges of plywood to alert walkers of the surface change.
Santa Rosa County Attorney Roy Andrews said the treated wood "did not hold up as well as expected."
County Engineer Roger Blaylock said new specifications to repair the pier call for better treated materials less susceptible to direct sun and other harsh coastal conditions. Renovations should be done by winter when fewer people visit. The county mandated that the pier stay open while contractors install the new planking.
The county plans to rebid the pier project after receiving proposals from Gulf Marine Construction, R. J. Gorman Marine and Hewes & Company. The county staff earlier this week had tapped Gorman, which offered to complete the job for $1,286,193.
However, Gulf Marine Construction, the low bidder, threatened to contest the award. The company called it unfair and alleged, among other things, that the specifications were poorly written.
"It's not inexpensive," Blaylock admitted about the project. He said county officials decided to go out for new bids to "avoid any controversy."
The Navarre Beach Pier enjoys a long history. To protect it from future beatings from hurricanes, it has pilings constructed at a 20-degree angle, which enhance structural stability. Blowout panels combat storm surges. Plus, the current pier is 30 feet above the water, compared to the old pier's 18-foot height. It also boasts a 3,800-square foot octagon shape at the end to allow for more fishermen.
Gilbert Cichy, a Navarre Beach resident, said he fishes off the pier nearly every day. His wife Marilyn sometimes comes with him. He scoffed at the project costing more than $1.2 million, while she called it a "waste of money."
"That's way too much," Gilbert Cichy said. "They could hire volunteers for two weeks and they would come out here and get it done."
Meanwhile, Shannon Lemons, a visitor from Kentucky, visited the pier for the first time to do some fishing. The pier patches didn't scare him away.
"They don't bother me," Lemons said. "If the good Lord wants me, he can have me."
Source: nwfdailynews.com