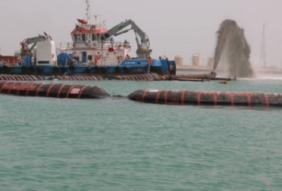 Posted on February 21, 2016
The National Marine Dredging Company (NMDC) has announced that hiring UAE nationals is one of its ultimate priorities in all the company's sectors, especially in engineering and technical fields.
This announcement was made during NMDC's participation in Tawdheef, the leading recruitment event for UAE Nationals that is currently taking place in Abu Dhabi at the National Exhibition Centre from 1st to 3rd of February 2016.
"We have succeeded to position ourselves in the global marine dredging field. As a UAE based company, we were proud to work on the 'Upper Zakum' project and to lead the 'Challenge Consortium' to successfully accomplish on time the Suez Canal project, the largest [ever] marine dredging project," said Yasser Zaghlool, CEO of NMDC.
"The marine dredging sector is becoming one of the pillars of maritime economy," he added. "We open new marine routes and canals, develop new ports and maintain existing ones, build artificial islands for oil and gas industry in addition to real estate waterfront projects".
Zaghlool added: "We ultimately aim to hire committed and loyal UAE nationals who will stay with our company for long time. The marine dredging field is a challenging one due to its complicated technicalities and circumstances that's why we want to give them the opportunity to lead in this field and develop their career and expertise."
NMDC also announced that it will be participating next April 2016 in the UAE Career Exhibition to be held in Dubai World Trade Centre, ensuring that NMDC is strategically positioned to attract UAE nationals to be the core of its human capital.
NMDC is also willing to establish agreements with local universities to attract local interns to do training in the company as a step to hire them after graduation and make use of their training during their academic years.