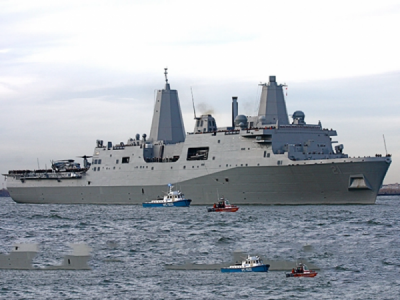 USS New York (LPD 21) [U.S. Navy photo]
Posted on November 12, 2020
General Dynamics NASSCO-Norfolk, Norfolk, Va., has been awarded a $138,545,759, firm-fixed-price contract for the execution of the USS New York (LPD 21) fiscal 2021 docking selected restricted availability (DSRA). The contract includes options that, if exercised, would bring its cumulative value to $161,341,858
The availability will include a combination of maintenance, modernization and repair of the San Antonio class amphibious transport dock vessel.
This is a Chief of Naval Operations scheduled "long-term" docking availability and was solicited on a coast-wide (East and Gulf coasts) basis without limiting the place of performance to the vessel's homeport.
NASSCO-Norfolk will provide the facilities and human resources capable of completing, coordinating, and integrating multiple areas of ship maintenance, repair, and modernization for the vessel.
The contract was competitively procured using full and open competition via the Federal Business Opportunities website; two competitive proposals were received.
Source: marinelog