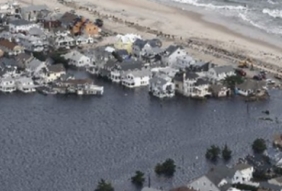 Posted on November 23, 2015
New Jersey could be in line for federal funding to repair 12 of its coastal lakes in Monmouth and Ocean counties after the U.S. Army Corps of Engineers agreed to include those bodies of water in a major study after Hurricane Sandy's devastation.
The inclusion of those lakes – as well as a harbor and a watershed – in the study was a major coup for the counties because the Army Corps rarely works on smaller bodies of water and exclusion from the Army Corps' study would have meant the towns around those lakes would be hard-pressed to get federal funding on their own.
Announcing the new development in the corps' upcoming New Jersey Back Bays study, U.S. Rep. Chris Smith said this marks and important step toward helping coastal towns solve repetitive flooding problems that were exacerbated by Hurricane Sandy in 2012.
"Superstorm Sandy highlighted the significant health and safety hazards associated with storm damage to homes and public property," Smith said. "We will continue to work to bring federal support to the table to make these coastal lakes and our communities safer."
In the wake of Sandy, the Army Corps is set to conduct a study of the state's bays to determine how to alleviate flooding. But the state's coastal lakes were not included in that study, which would have made it very difficult for towns around those bodies of water to secure federal funding for any repair work, Smith said.
While the study will include all of the state's coastal lakes, the most severe damage during Sandy was in Monmouth and Ocean counties where lakes connected to the Atlantic Ocean overflowed their banks because of Sandy's huge storm surge.
Some towns with coastal lakes were under water for up to a week after Sandy.
The study is part of a more comprehensive study called the North Atlantic Coast Comprehensive Study, which helps towns understand and prepare for future flood risks.
The lakes to be included in the study are Wesley Lake, Fletcher Lake, Sylvan Lake, Silver Lake, Lake Como, Wreck Pond, Spring Lake, Stockton Lake, Lake Louise, Little Silver Lake, Lake of the Lillies, and Twilight Lake.
The other areas included are the Deal Lake watershed and Glimmer Glass Harbor.
Smith along with officials from the state Department of Environmental Protection and local Assemblymen Sean Kean and David Rible held a meeting last week at the Monmouth County Sheriff's Southern Communication Center in Neptune.with representatives of the affected towns to make the announcement.
Since Sandy, state officials have cobbled storm aid funding together to get some lake projects started. They include the dredging of Deal Lake, which borders seven towns in Monmouth County. That work, officials said, is only a fraction of what needs to be done for the state's largest coastal lake.
And this summer, state officials announced funding for work on Wreck Pond, which borders five towns in Monmouth County, for dredging and replacement of its outfall pipe.
Lake Como, which caused major flooding in Belmar during Sandy, is also getting funding for construction of a discharge station.