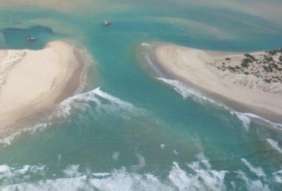 Posted on January 7, 2016
No end is in sight for dredging operations at the Murray Mouth, a year after they resumed.
Dredging will be required "for some time into the future" due to the hotter and drier conditions brought on by the current El Nino weather pattern, according to the Department of Environment, Water and Natural Resources (DEWNR).
About 967,000 cubic metres of sand had been removed from the Tauwitchere and Goolwa channels when DEWNR last issued an update on December 18, the eve of a 16-day shutdown.
Under the Murray-Darling Basin Plan, the Murray Mouth should remain open without dredging in 19 out of 20 years.
But dredging has now been required for nine of the past 13 years, including an eight-year stretch during the Millenium Drought.
The connection between the River Murray and the Southern Ocean sustains water quality, plants and animals in the Coorong, which is listed in the Ramsar Convention on wetlands of international importance.
At present, mariners are only allowed to pass through the Murray Mouth during daylight hours, exclusion zones remain in place around the dredging equipment, and part of the northern tip of Coorong National Park is still closed due to the operation.