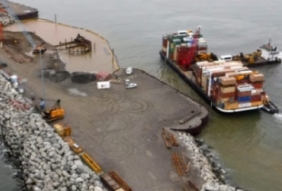 Posted on March 7, 2016
U.S. Sen. Lisa Murkowski is again asking the Army Corps of Engineers to advance a northern deep-water Alaska port to serve vessels in Arctic waters.
The Alaska Republican at a budget hearing Wednesday questioned the assistant secretary of the Army for civil works, Jo-Ellen Darcy, on why the corps is not seeking funding a proposed port expansion in Nome.
The corps in October suspended a study of a deep-water port for large oil and gas support ships in the Arctic Ocean after Royal Dutch Shell ended exploratory drilling off Alaska's northwest coast.
Darcy says the agency is looking at expanding the scope of the study.
Murkowski in a release says developing a port for the Arctic is about more than just oil and gas exploration.