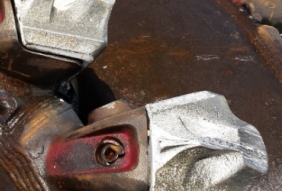 Posted on January 11, 2016
By Larz Bourne, Maritime Journal
Barcelona, Spain-based MTG Systems used the occasion of the recent Europort exhibition to introduce DMET, a hammerless system for replacing cutter suction dredger teeth which promises to maximise productivity.
With productivity and profitability closely linked, the rapid and reliable replacement of cutter head teeth is a major concern for cutter suction dredger operators, especially in hard rock conditions when the replacement process is required more frequently.
The DMET system includes a hammerless locking technology, MTG Twist, which promises added reliability and ease of use. Tooth replacement can be carried out by a single operator and the hammerless pin can be re-used several times, even in severe conditions. Due to the vertical positioning of the pin, access for assembly and disassembly is improved and pin loss during tooth replacement is avoided.
READ FULL ARTICLE HERE